one of my all time fave movies is kill bill talaga, ovbiously.. nadownload ko siya sa limewire saya nga eh i can watch it anytime i want to! tapos sobrang linaw pa and kumpleto unlike yung lecheng pinalabas sa cinema one, tinagalog niyo na nga may inedit out pang scenes. may gusto ko kasi akong bigyan pag naburn ko siya. wala lang akong blank cd

kaya right after eating lunch, tinanong ko dadi ko....

"pa, do we have a burner?"

sagot naman siya "a what?"

eh di inulit ko "burner..? or sira ba siya?"

ang tagal pa nyang sumagot eh..

*chewing* *chewing*

..hello left me hanging with a question here..

"we have a toaster, what do you need a burner for?"

ampota. sige..inum na lang ako..tawang tawa na ko ang hirap pigilin.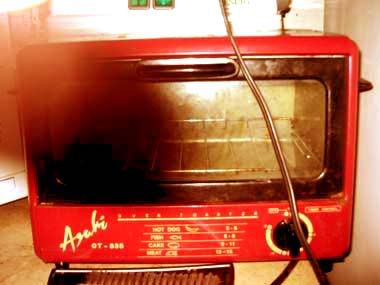 mahirap atang magburn ng movie file sa toaster no..



parang nahule pa kong pinicturan ko yung toaster. pota ako naman, smile na lang depicting a "hihi"